Intended to Use
HIV test kit ,Rapid,visual chromatographic Assay for Dection HIV Antibodies.2-lines, One step Anti-HIV1+2 (Serum/Plasma) Test,HIV test is a rapid direct binding screening test for the presence of antibodies to HIV-1 and HIV-2 viruses.The test is based on the principle of double antigen sandwich immunoassay for detection of Anti-HIV in serum/plasma. Purified ecombinant antigens are employed to identify Anti-HIV specifically HIV1+2 Whole Blood Cassette Test is a single reagent immunoassay for the qualitative detection of antibodies tohuman immunodeficiency virus types 1 and 2 (HIV-1 and HIV-2), in human blood.

Test Procedure
1.Allow the test kit, specimen, buffer, and/or controls to equilibrate to room temperature (15-30°C) prior to testing.
2.Remove the test kit from the foil pouch and use it as soon as possible.
3.Place the test strip on a clean and level surface. Transfer the specimen by a Disposable Specimen Dropper(or a Pipette). Hold the dropper vertically and transfer 2drops of serum or plasma or whole blood (approximately 50ul) onto the specimen pad of the the strip .then add 1 drop of buffer (approximately 40ul)and strat the timer .
4.Wait for the red line(s) to appear. The result should be read at 15 minutes. Do not interpret the result after 20 minutes.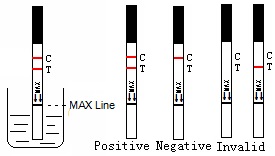 Interpretation Of Result
• Positive: In addition to a pink colored control (C) band, a Distinct pink colored band will also appear in the test (T) region.
*Note(Weak Positive): Colored band appearing in control Region (C) together with a faint colored band in Test Region (T).
• Negative: Only one colored band appears on the control (C) region. No apparent band on the test (T) region.
• Invalid: A total absence of color in both regions is an indication of procedure error and/or the test reagent has deteriorated.
Storage and Stability
The test kit can be stored at temperatures from 4℃ to 30℃ in the sealed pouch up to date of expiration . The test kit should be kept away from direct sunlight and moisture .Do not freeze the test kit.
Precaution
1. For whole blood specimen use only. Do not use other specimens.
2. Do not eat, drink or smoke in the area where the specimens or kits are handled.
3.Handle all specimens as if they contain infectious agents. Observe established precautions against microbiological hazards throughout all procedures and follow the standard procedures for proper disposal of specimens.
4. For professional in vitro diagnostic use only. Do not use after expiration date.
1.Self testing &
Easy use
2. High sensitive
3. High Accuracy
4. OEM available