1.Application
The BZO One Step Benzodiazepines Test Strip is a lateral flow chromatographic immunoassay for the detection of Oxazepam (major metabolite of Benzodiazepines) in urine at a cut-off concentration of 300 ng/mL
2. Specification:
• Specimen:Urine
• Cut-off:10ng/ml
• Formats:Strip
• Usage:home-testing,self-testing,professional-testing
• Inner Packing:1 test/pouch with desiccant,cassette with dropper
• Certificate:CE, ISO & FDA
• Accurate Results in 5 Minutes
• Convenient Test Procedure
• Storage:Room temperature
• Shelf life:24 months from date of manufacture
3. Usage:
Allow test device,urine specimen,and/or controls to equilibrate to room temperature (15-30°C) prior to testing.
• Bring the pouch to room temperature before opening it.Remove the test device from the sealed pouch and use it as soon as possible.
• Place the test device on a clean and level surface.Hold the dropper vertically and transfer 3 full drops of urine (approx. 100mL) to the specimen well (S) of the test device, and then start the timer.Avoid trapping air bubbles in the specimen well (S).See the illustration below.
• Wait for the colored line(s) to appear.The result should be read at 5 minutes.Do not interpret the result after 10 minutes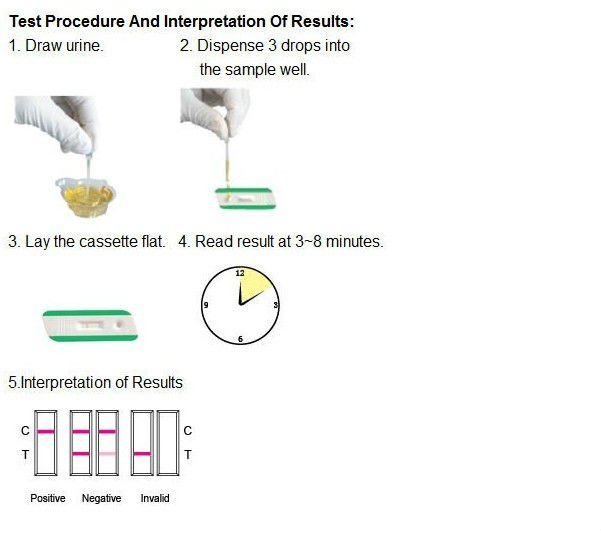 4. Results
NEGATIVE:Two lines appear. One colored line should be in the control region (C),and another colored line should be in the test region (T).This negative result indicates that the Benzoylecgonine concentration is below the detectable level (10 ng/mL).
NOTE:The shade of the color in the test region (T) may vary,but it should be considered negative whenever there is even a faint line.
POSITIVE: One colored line appears in the control region (C).No line appears in the test region.This positive result indicates that the Benzoylecgonine concentration is above the detectable level (10 ng/mL).
INVALID: Control line fails to appear.Insufficient specimen volume or incorrect procedural techniques are the most likely reasons for control line failure.Review the procedure and repeat the test using a new test device.
Fast to test and easy to read
Read results within 5 minutes
High sensitivity and high quality
Q1: What's the method u use to do the test?
A: Colloidal Gold Method.
Q2: What's ur MOQ ?
A: Always, for strip format, the MOQ is 5000pcs. While for cassette format, MOQ is 2000pcs, same as midstream.
Q3: What's ur packing of the tests?
A: If u choose the low cost, we will suggest u the bulk packing to go. Which means 1 test in a single pouch, then 100/40 pouches in a plastic bag, 50 bags in a carton. If u need to sell in pharmacy/chain shop or some countries which have strict requirements about the packing, u can choose to pack in a box, like 100pcs in a box, or even 1 test in a single box.
Q4: What's the main differences when comparing products from different suppliers?
A: U can compare the mainly features of the test: Accuracy, Sensitivity, Specificity, and then the Price.
Q5: Some tests can be tested with serum/plasma or with whole blood, so what's the difference?
A: Well, if the specimen is whole blood, people will need buffer, lancet and alcohol swab to help the test. If they buy all the accessories, they can test very easily at home. But if the specimen is serum/plasma, it will need centrifuge to separate serum from whole blood first. This way, it's better to use at lab or hospital. And in some words, serum/plasma test will always give a more accurate results
Q6: How can i distinguish a good test kit?
A: U can judge from the 4facts:Technical data: Such as the accuracy, specificity and sensitivity