One Step Strip Style HCG Urine Pregnancy Test is a test kit for the determination of HCG (Human Chorionic Gonadotropin) in urine specimens. This test kit is used to obtain a visual qualitative result for early detection of pregnancy. The test sensitivity is 25-30mIU/mL.


TEST PROCEDURE
Read the entire procedure carefully before performing any tests.

Allow test strip and urine specimen to equilibrate to room temperature (20-30℃ or 68-86℉) prior to testing.
1.Remove the test strip from the sealed pouch.

2.Holding the strip vertically, carefully dip it into the specimen with the arrow end pointing towards the urine.




NOTE: Do not immerse the strip past the Max Line.

3.Wait for colored lines to appear. Interpret the test results at 3-5 minutes.( Do not read results after 10 minutes.)
The test strip consists of colloidal gold-monoclonal antibody against LH coated on polyester membrane, and monoclonal antibody against LH and goat-anti-mouse IgG coated on cellulose nitrate membrane.
Each pouch contains one test strip and one desiccant.

INTERPRETATION OF RESULTS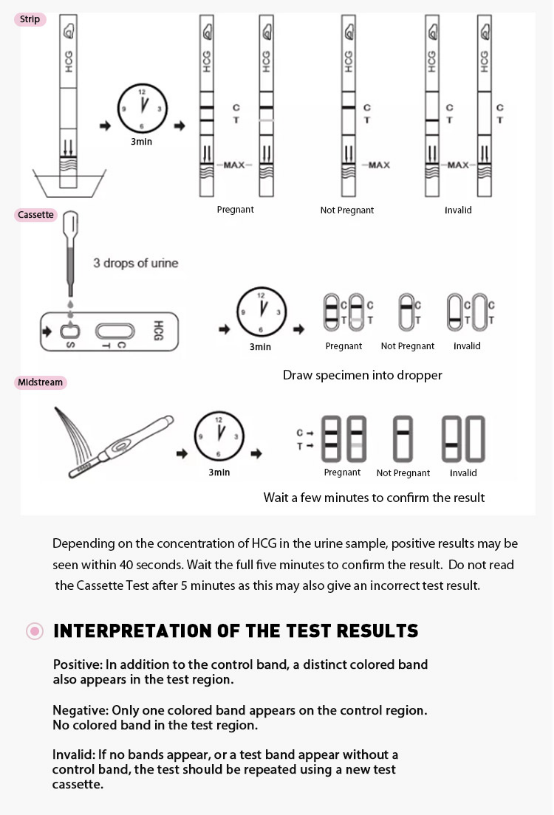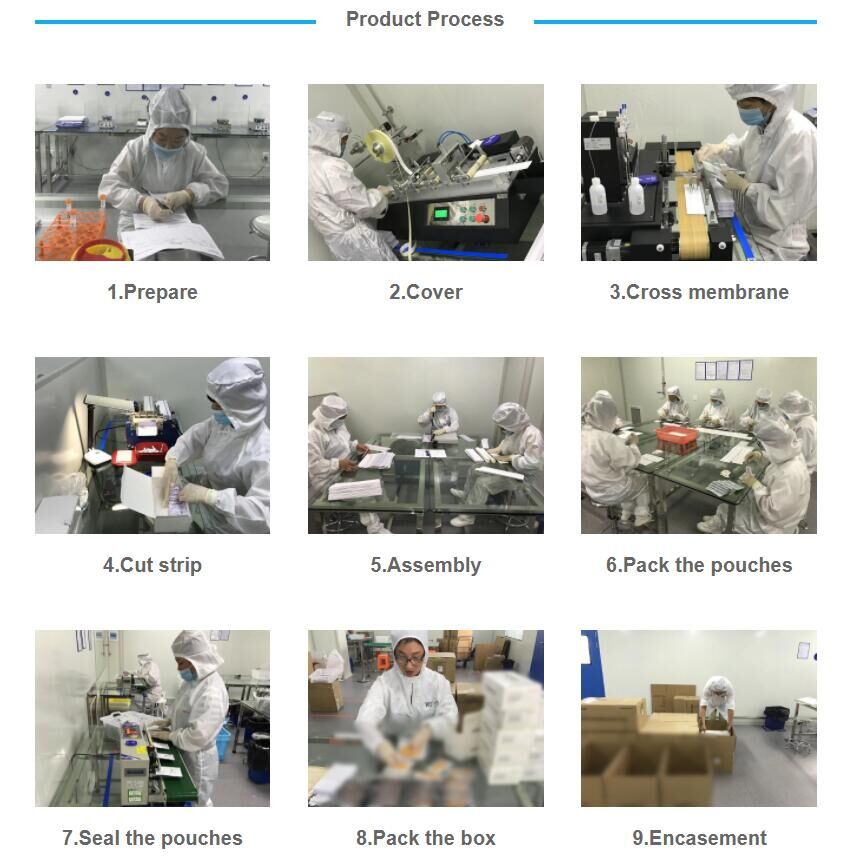 Early detection of pregnancy as early as 7 days after the fertilized egg implantation
Simple to use
A variety of design specifications suitable for self-testing use and for professional use
Results in 3 to 5 minutes
Store in room temperature
24 months shelf life
Q1: What's the method u use to do the test?
A: Colloidal Gold Method.
Q2: What's ur MOQ ?
A: Always, for strip format, the MOQ is 5000pcs. While for cassette format, MOQ is 2000pcs, same as midstream.
Q3: What's ur packing of the tests?
A: If u choose the low cost, we will suggest u the bulk packing to go. Which means 1 test in a single pouch, then 100/40 pouches in a plastic bag, 50 bags in a carton. If u need to sell in pharmacy/chain shop or some countries which have strict requirements about the packing, u can choose to pack in a box, like 100pcs in a box, or even 1 test in a single box.
Q4: What's the main differences when comparing products from different suppliers?
A: U can compare the mainly features of the test: Accuracy, Sensitivity, Specificity, and then the Price.
Q5: Some tests can be tested with serum/plasma or with whole blood, so what's the difference?
A: Well, if the specimen is whole blood, people will need buffer, lancet and alcohol swab to help the test. If they buy all the accessories, they can test very easily at home. But if the specimen is serum/plasma, it will need centrifuge to separate serum from whole blood first. This way, it's better to use at lab or hospital. And in some words, serum/plasma test will always give a more accurate results.
Q6: How can i distinguish a good test kit?
A: U can judge from the 4facts:Technical data: Such as the accuracy, specificity and sensitivity.
Pouch sealing: Tight enough. If the foil pouch is not sealed well, the humidity in circustance will destroy the reactivity of antibodies labeled on NC membrane. Shelf life will be shorten down.
Flow speed: The shorter the better?? NO!! The reaction of antibodies on NC membrane and antigens in specimen usually requires quite a while to work sufficiently. U can refer to the instruction for more accurate time.
Background: Good test usually gives clean background after running. If there are red smears in the reading window, it usually caused by bad colloidal gold technology or bad NC membrane. Sometimes, the defect caused false positive result in practice