Product Name

Specimen

Format

Catalog No.

Sensitivity

Strip Width

Certificate

LH ovulation Test

Urine

Strip

LH-U01A

10miu,20miu,25miu

2.5mm

CE/FDA

LH-U01B

3.0mm

LH-U01C

3.5mm

LH-U01D

4.0mm
Details:
The LH (Luteinizing Hormone) which is in the urine of normal women will increase dramatically in the middle of the menstrual cycle. The LH increase triggers ovulation which is when the egg is released periodically from normal fertile women. WHO experts state that LH testing is a reliable way to detect ovulation. Ovulation will occur after 24-48 hours following a positive test. One Step Ovulation Urine Test is a rapid qualitative immunochromatographic assay to predict when there is a LH surge, and in turn, when you are likely to ovulate. The test unitizes the double antibody sandwich method.
When To Begin Testing
First, you must determine the length of your menstrual cycle. This is the number of days from the first day of your menstrual bleeding to the day before your next bleeding begins again. Please refer to the chart to determine when you should start testing. If your cycle is shorter than 21 days or longer than 38 days. Consult your doctor. If you do not know your cycle length, you may begin the test 11 days after your first period since the average cycle length is 28 days. Perform 1 test each day over a 5 days period or until the LH surge has been detected.
URINE COLLECTION
1. Do not use first morning urine samples as LH is synthesized in your body early in the morning urine samples as LH is synthesized in your body early in the morning. It will not show up in your urine until later in the day.
2.the best time to collect your urine is between 10 am-8pm
3.Collect urine at about the same time each day.
4.Reduce liquid intake about 2 hours before collecting your urine as a diluted urine sample can prevent the test from detecting LH surge.
TEST PROCEDURE
1. Allow the sealed LH test pouch, patient's urine sample and control solution to reach room temperature(18-30℃)
2. Remove the LH test device from the sealed pouch
3. Immerse the strip into the urine with the arrow end pointing towards the urine.
Do not immerse past the MAX(MAXIMUM) line. Take the strip out after 5 seconds and lay the strip flat on a clean, dry, non-absorbent surface(e.g. mouth of the urine container) in the test specimen, positive results may be observed in as short as 40 seconds. However, to confirm negative results, the complete reaction time(10 minutes) is required. Do not read results after 15 minutes.
INTERPRETATION OF RESULTS
No LH surge: Only one color band appears on the control region or the test band is lighter than the control bandthere is no LH surge.
LH Surge: if two color bands are visible and the test band is equal to or darker than the control band, one will probably ovulate in the next 24-48 hours. If one wants to be pregnant, the best time to have intercourse is after 24 but before 48 hours.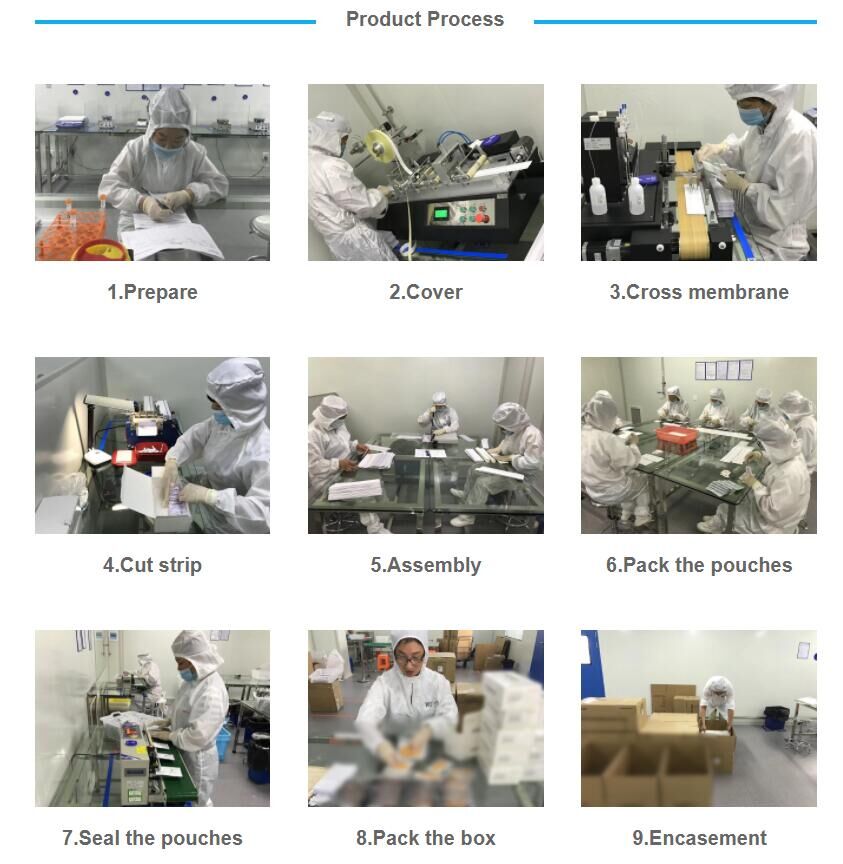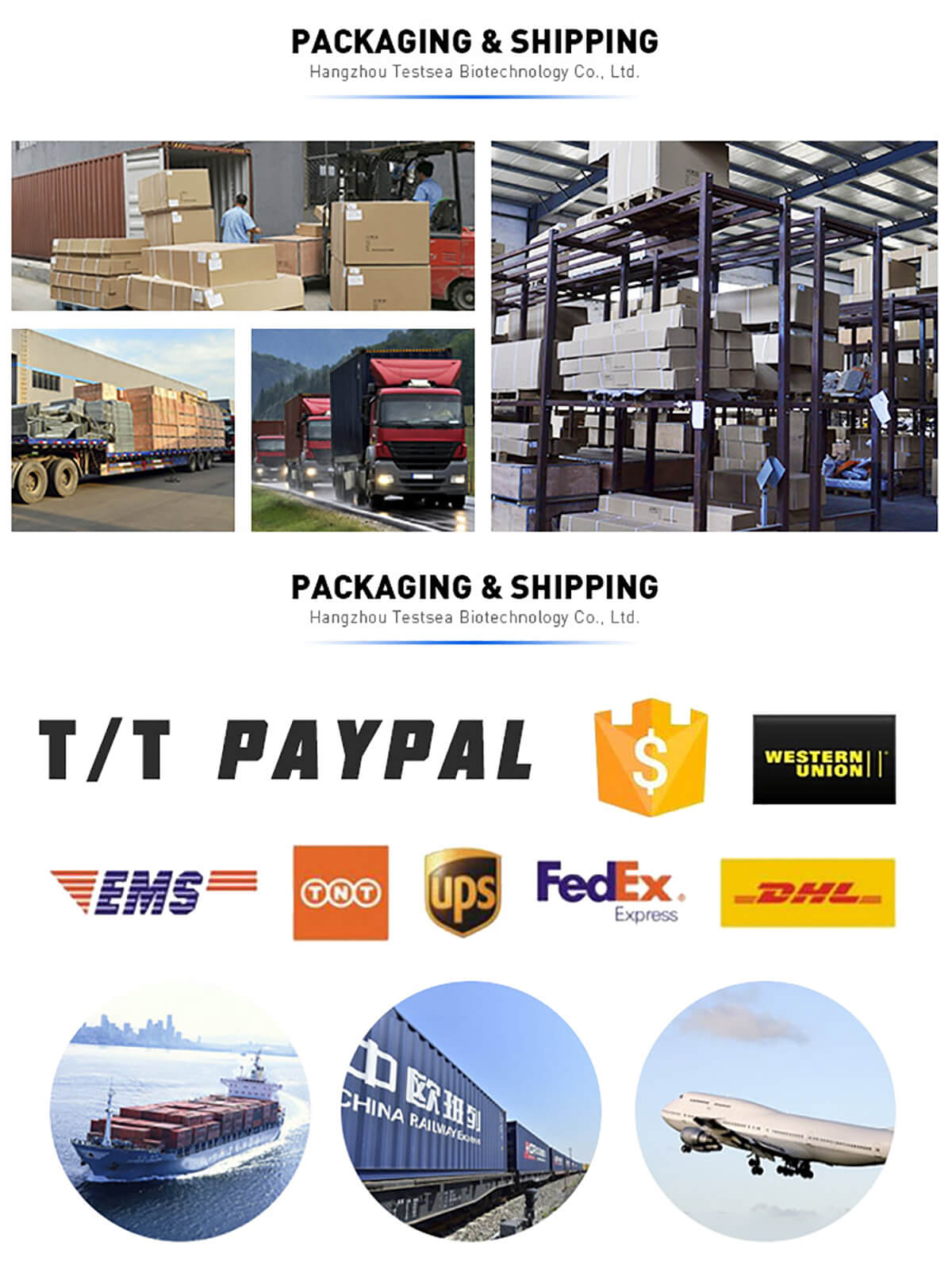 Characteristic:
1. Over 99% accuracy
2. Simple to use
3. Store in room temperature
4. A variety of design specifications suitable for self-testing use and for professional use
5. 24 months shelf life
Q1: What's the method u use to do the test?
A: Colloidal Gold Method.
Q2: What's ur MOQ ?
A: Always, for strip format, the MOQ is 5000pcs. While for cassette format, MOQ is 2000pcs, same as midstream.
Q3: What's ur packing of the tests?
A: If u choose the low cost, we will suggest u the bulk packing to go. Which means 1 test in a single pouch, then 100/40 pouches in a plastic bag, 50 bags in a carton. If u need to sell in pharmacy/chain shop or some countries which have strict requirements about the packing, u can choose to pack in a box, like 100pcs in a box, or even 1 test in a single box.
Q4: What's the main differences when comparing products from different suppliers?
A: U can compare the mainly features of the test: Accuracy, Sensitivity, Specificity, and then the Price.
Q5: Some tests can be tested with serum/plasma or with whole blood, so what's the difference?
A: Well, if the specimen is whole blood, people will need buffer, lancet and alcohol swab to help the test. If they buy all the accessories, they can test very easily at home. But if the specimen is serum/plasma, it will need centrifuge to separate serum from whole blood first. This way, it's better to use at lab or hospital. And in some words, serum/plasma test will always give a more accurate results.
Q6: How can i distinguish a good test kit?
A: U can judge from the 4facts:Technical data: Such as the accuracy, specificity and sensitivity.
Pouch sealing: Tight enough. If the foil pouch is not sealed well, the humidity in circustance will destroy the reactivity of antibodies labeled on NC membrane. Shelf life will be shorten down.
Flow speed: The shorter the better?? NO!! The reaction of antibodies on NC membrane and antigens in specimen usually requires quite a while to work sufficiently. U can refer to the instruction for more accurate time.
Background: Good test usually gives clean background after running. If there are red smears in the reading window, it usually caused by bad colloidal gold technology or bad NC membrane. Sometimes, the defect caused false positive result in practice